Catenary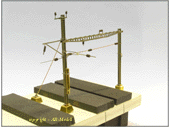 How to build your own catenary.
Please excuse us, but we are so busy that we can no longer update all the English language pages. Please visit the German pages and use a translation machine if necessary. Thank you for your understanding.
Sorry, but this site is still under construction. It will take a little while, until we have added all the text an photos to this part of our information-desk. Please visit us later.
To have a first taste of what is coming, just click the photo on the left: it shows a typical catenary-part, which could be seen in many Swiss railway stations. Two tracks of the station have been crossed by a traverse, sitting on a short pole on the right, and a long pole on the left. As you can see, there is a third track, which is in front. A separate bracket is placed on the long pole for that. It even carries the 2-phased supply-line and a tensioning pulley. To make this construction secure, the pole is held by a special wire, fixed to the ground. The major pole and the anchor got a concrete-block of bigger dimensions, than the short pole, which only carries a separate signal plate.
All these parts can bought from us - for your own, excellent catenary system. Have much fun with your model-railroad.
If you want to have a first look to our paintings and the german text, just click here. Or download the paintings here.